The new Frenchspin site
Hi all, and welcome!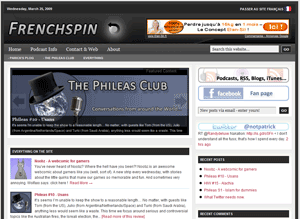 I've been talking for a while about the fact that I was having problems managing all the different blogs I set up over the past couple of years. Most of them are podcast blogs that don't really see much activity outside of the show's schedule, so it only makes sense that I would put all of that together in one convenient place.
Furthermore, it will allow me to add content much more easily in the future.
Please note that the "individual sites" (or minisites) are still sort of available through the use of categories: if you're only interested in The Phileas Club and nothing else, you can go to the show's minisite (available through the navbar on the top menu) and that's all you'll get.
I hope you enjoy the new organisation and the new homepage! As usual, all the comments and feedback are very welcome.