The Movielicious 46 – Suckerlicious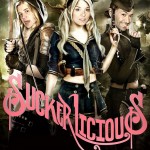 On this episode, your hosts:
Discuss these flicks:
Hall Pass
Rango
Sucker Punch
And: Sin City, The Big Lebowski, The Bourne Identity (and trilogy).
Enjoy the show!
Audio clip: Adobe Flash Player (version 9 or above) is required to play this audio clip. Download the latest version here. You also need to have JavaScript enabled in your browser.
And to find out more about our wonderful hosts, go here:
Join us live on the next episode: May 5th.