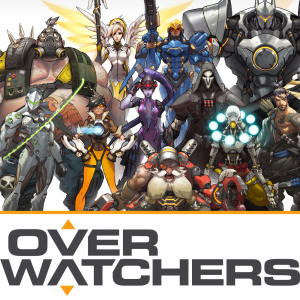 Here you'll find various links to the now inactive Overwatchers podcast episodes. We spent a lot of time, energy and love doing the show, and we wanted to make sure it had a long term home for those of us who have fond memories of it. We enjoyed the ride, and hope you enjoyed it too!
— Patrick, Garrett and Chris.
The episodes and (most) descriptions are easily accessible via the Overwatcher RSS feed.
It can be used for subscribing via a podcast player or simply to listen to the MP3s on the web. Please note that the feed was reconstructed and frankensteined from various bits of info, so expect inconsistencies and missing info here and there.
Our Twitter accounts are @NotPatrick, @GarrettArt, and @ChanManV.
The show's is (was) @Overwatchers.
The show was previously hosted on Amove.tv (Garrett's site), Chanmanv.tv (Chris's site), and it's now here on mine. I find it kind of poetic that it spent its life on all of our sites in the end…
Oh, and it's also available on Soundcloud.
Keep fighting the good fight, heroes! <3
—
Patrick