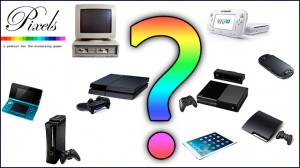 I'm not gonna lie: this "pre-pilot" is pretty heavy. Its aim is to cover the entire industry, in its current state, platform by platform, element by element, inch by inch. By the end of it though, you should have a clear idea of where the video games industry stands at the moment, and the tools you need to understand where it might be going. Also, we're having fun while discussing all this. Sounds appealing? Great, jump in!
We'll be back soon with what will probably more light hearted (but still super informative) shows.
The games we mention on the show:
PS3: Dark Souls, Uncharted series, Call of Duty 4 Modern Warfare, Red Dead Redemption
Xbox 360: Fable 2, Crackdown, Viva Pinata, Halo 3, Modern Warfare 1 & 2, Red Dead Redemption
PS4: Uncharted, Blood Borne, Shadow of Mordor
XBox One: Halo Master Chief Collection and 5, Forza series, Shadow of Mordor, Titanfall
Wii U: All of Nintendo!
3DS: Nintendo again! Fantasy Life, Kid Icarus, Animal Crossing, Bravely Default
PS Vita: Persona 4, Uncharted, Gravity Rush, Spelunky
Mobile: XCom, Hearthstone, Skyforce, The Banner Saga, Valiant Heart, Final Fantasy
PC: Everything! Portal 2, Civilization Beyond Earth, Papers Please, Diablo 3, Crusader Kings 2,
Batman Arkham Asylum / City"
Hosts:
You can also download the MP3, or subscribe via iTunes or RSS.